Let's enjoy "DOLL FESTIVAL" with Hishimochi Flower arrangement!!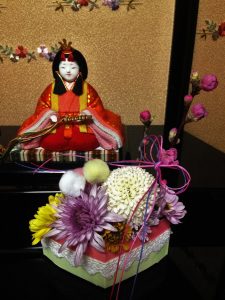 On March 3, we will be celebrating Doll Festival in Japan!
We will decorate "OHINASAMA "dolls with peach trees to pray for our little girl's health and growth.
Let's make a pretty flower arrangement with peach trees!
We will make a small flower arrangement shaped Hishimohi( a rice cake decorated on "DOLL FESTIVAL") using milk package!
Date:Feb.22
Time:15:30~16:30
Venue: Gakushu-shitsu No.2, 6th floor of Machida Chuo Kominkan (109 building)
Participation fee: 1,500yen / family (This includes flowers and venue costs)
Number of reserved participants: 12 families
Participants: Children over 3 years old are all encouraged or invited for this exciting event.You can also bring your babies if you have one.
※Closing of reservation: Feb.17